The connected home is no longer just a dream. There are more than enough consumer gadgets that can be retrofitted to almost any home to make the dream of a connected home a reality.  With the internet and artificial intelligence living in the cloud running your devices behind the scenes, your home could be the smartest it has ever been. With a few gadgets you can retrofit easily to your home, you can bring it into the 21st century.
The first connected home gadgets on the list are the Nest thermostat and Nest Protect. We've previously discussed how Nest works together and can bring your home into tomorrow. I'm not going to go into too much detail now, but if you'd like more information you can read our article here. The Nest thermostat and smoke alarm work together to monitor your home, and how it's heated in order to heat your home more effectively. The Nest smoke alarm is packed with sensors and the whole system of connected devices talk to each other. For example, if Nest Protect detects carbon monoxide it will switch off your boiler, which is usually the source of carbon monoxide. The Nest thermostat also taps into Nest Protects sensors to learn when you're away from the home and will not heat an empty house.
You can get Nest products from:
Amazon UK
Amazon US
Amazon Canada
Next on the list is Philips Hue. Something we often don't think about is lighting – we hit a switch to turn them on, and a switch to turn them off – and that's all there is to it. Although there are other connected bulbs out there, Philips Hue is the most full-fledged system.  With your standard GU10 and A19 bulbs, Hue can cater for common fittings, and the range also includes light strips and three ambient lighting lamps.
Philips Hue connects to a wireless bridge which can connect up to 50 hue products including the smart switch, bulbs, lamps and lightstrips. This is wired into your router and lets you control your hue products from your smartphone or computer. The clever bit here is that Hue works with other products, such as IFTTT, so you could automate triggers on your bulbs – for example, have the lamp in your hallway pulse blue if it's going to rain today.
You can get Philips Hue from:
Amazon UK
Amazon US
Amazon Canada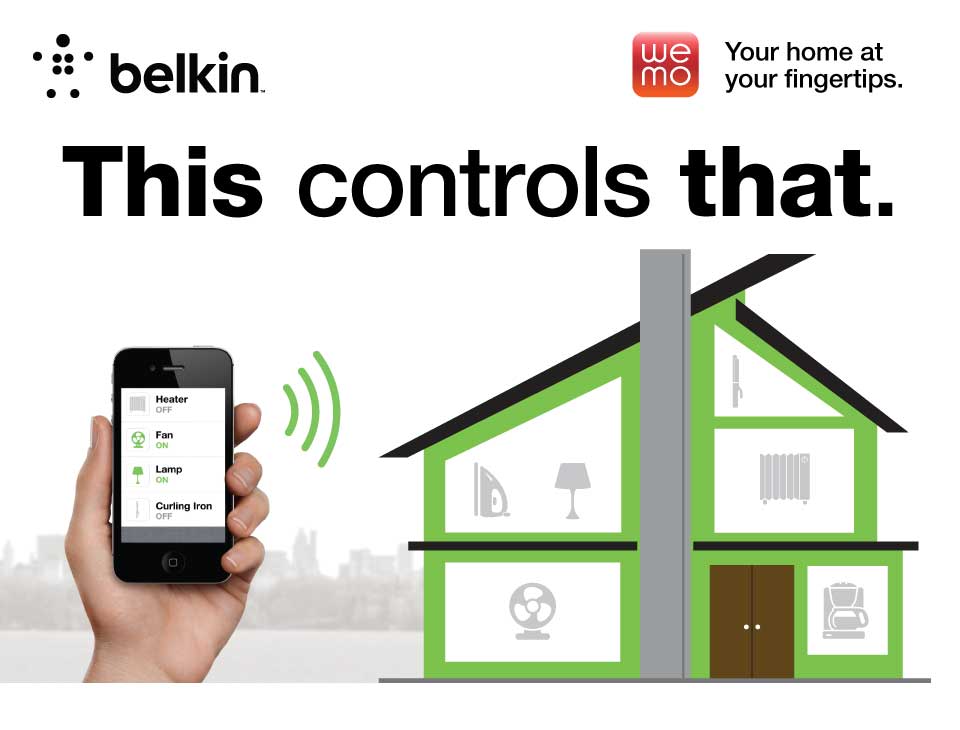 The Belkin WeMo home automation kit is one of the few smart home kits that's available outside the US. There are a lot of similar products, and some may argue even better ones, however most of them aren't available outside North America, which is a shame. However, the Belkin WeMo kit has both American and European plugs, allowing you to automate aspects of your home and control them remotely.
The Belkin kit includes motion sensors and internet connected plugs which plug into services such as IFTTT, meaning if a motion sensor detects, well motion, you could have your Philips Hue bulb(s) switch on automatically when you enter a room. Belkin do have their own LED WeMo bulbs, but they are only one colour and aren't available for other light fittings, so I personally wouldn't use them. The Belkin home automation kit also has (as you would expect) a mobile app that allows you to remotely turn appliances on and off.
You can get Belkin WeMo from:
Amazon UK
Amazon US
Amazon Canada
Jawbone Up may seem an odd gadget to have for the connected home, and you'd be right, but Up by Jawbone has a channel on IFTTT. This means you can have things in your home activate when you wake up. For example, IFTTT could tell your Philips Hue bulbs to turn on, or tell Nest to heat up your home to a comfortable temperature before you've even got out of bed.
Up, for those who don't know is a fitness and activity tracker, tracking things such as sleep, fitness activity, and with the UP3 – heart rate monitoring. It comes with its own app and also works with lots of others such as Runkeeper, Nest, and as mentioned earlier IFTTT.
You can get Up from:
The Up Store
Amazon UK
Amazon US
Amazon Canada
Chromecast again may seem an odd choice for a connected home gadget when if you're reading this list you probably already have a smart TV.  However, because of simplicity of the Chromecast (and super low price) it makes sense to have one attached to every TV.  With CEC, which is on the majority of modern HDTVs, it allows you to take over the TV with a couple of taps allowing you to quickly 'flick' content to your TV including photos, BBC iPlayer, HBO Go, YouTube and the huge list of other Google Cast compatible services. With Chromecast also being compatible across iOS, Android and Desktop, it means you can use it regardless of your ecosystem of choice.
You can get it from:
Google Play
Amazon UK
Amazon US
Amazon Canada
Disks are a thing of the past, or should be, in my opinion anyway. Plex isn't really a gadget but it's an incredibly clever piece of software worth having. Plex media server can be installed on an old PC you have laying around. Failing that, some NAS systems have plex Apps. See Drobo for example. What Plex will do is organise your media automatically. With a little setup (and correct file names) Plex will add all the information needed to your media once you have ripped your DVD box sets and movies collection, cover art, film ratings and synopsis. Plex is pretty ubiquitous, having apps on Vizio, Samsung and LG smart TVs, as well as being available on Roku, Apple TV, Xbox and Amazon TV. It also has apps for your desktop PC (windows and Mac) and is of course Chromecast compatible, so you can have your entire media collection at your fingertips. It's a bit like having your own private Netflix and Spotify, except they're combined into one and supports all your photos to boot.